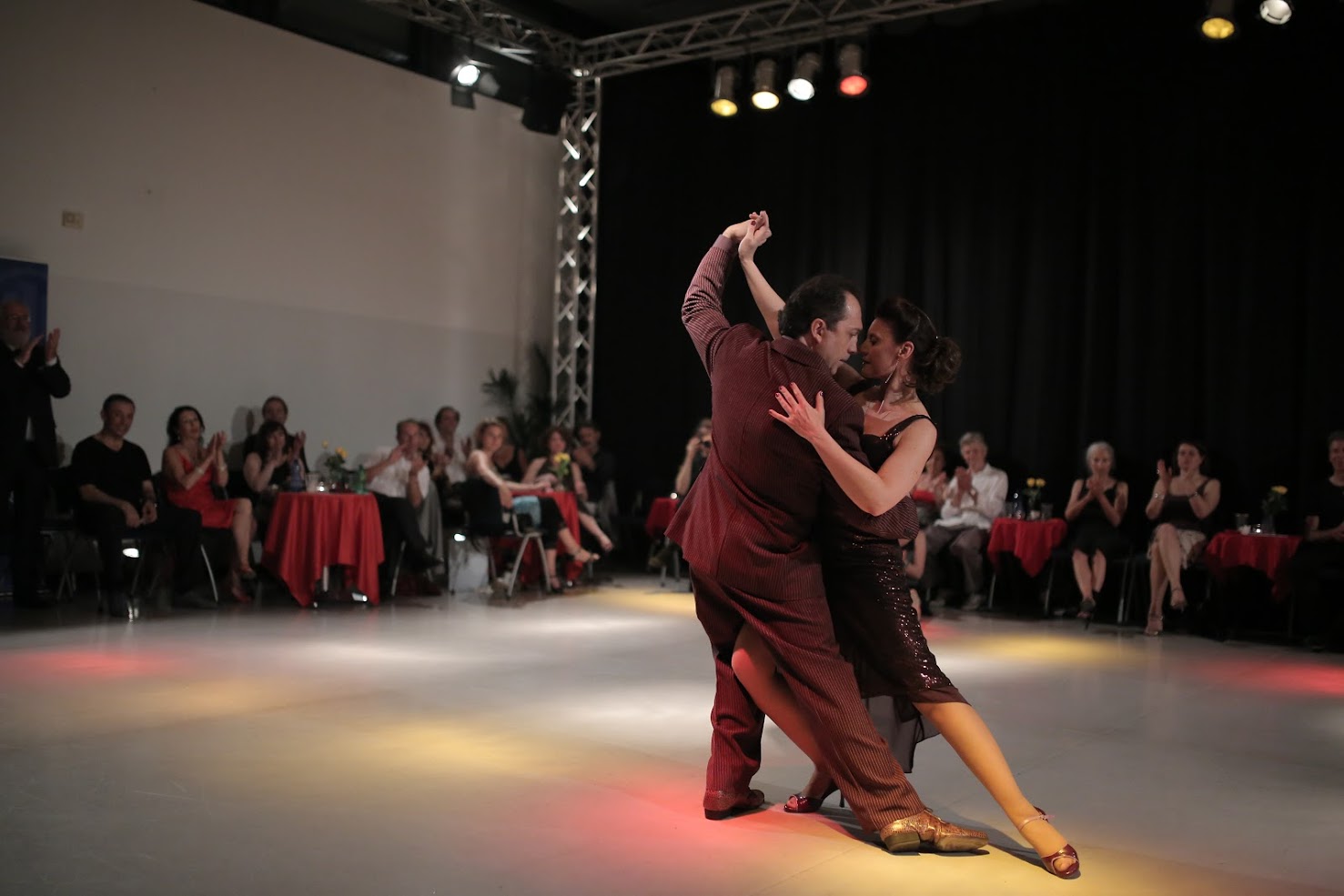 GISELLE
Has demonstrated her abilities as a dancer and choreographer by performing in shows such as Tango Argentino, Tango Pasión, Mariano Mores, and Los Solistas de D'Arienzo. She has performed in America, Europe and Japan, and during the five years of her residence in Spain (1992-1997) she worked intensely with the tango: creating her own ballet, founding a school and inaugurating the "Casa del Tango" (Tango House) in Sevilla. Now with 25 years of experience, the presence and solidity of her dance are balanced perfectly with the beauty of her movements, and this ensures that her dancing is always at the highest level.
GUSTAVO Dancer and internationally ranking choreographer, he is also the pioneer of a new technique of teaching the tango, now famous worldwide. After already 30 years of experience and touring all over the world , he imparts his knowledge with conceptual clarity and a rich technique. Being an exceptional analyst and investigator, his abilities have revolutionized tango dancing towards the end of the 20th century. Those who best know the world of tango dancing also appreciate his knowledge of tango dancing history and styles which he knows how to materialize through the creativity of his improvisations. The critics in Bs. As. said: "…You could say that three stylistic tendencies contend for supremacy: Urquiza's style, Almagro's style and Naveira's style …" (Clarín 8/8/99, Buenos Aires Argentina).
THE COUPLE They met in 1995, joined their capacities and found a great harmony. Together, Gustavo and Giselle have successfully performed in the most important tango festivals around the world (Asia-America- & Europe). They have also performed and made different shows in the most typical milongas and theaters in Buenos Aires and abroad.
From 2003, discontinue, they give the famous "tango seminars" a genuine method that they have created to make the tango dancers improve their dance.
They continue traveling to teach and perform all over the world, but now they live in Boulder, Colorado, USA. From 2010 they organize there an Argentine Tango Festival around the months of September/October
seminar
BÁSICOS A FONDO (DEEP BASICS)
The Material will be a special program that contains a revision of the most important Argentine tango choreographic ideas, presented through combined sequences that we do consider them 'interesting'.
Why are we considering them 'interesting combinations' ? Because of two reasons:
1. These 'combinations' are setting specific coordination problems and the solution notably helps to improve general dance control.
2. We truly believe these combinations have, in addition, a particular beauty, sometimes focused on the 'shape', sometimes on 'dynamics', sometimes on 'structure'.
Then, through these sequences above mentioned we arrive then to the detection and isolation of basic problems of the tango dance that are later deeply analyzed and studied.
It is known that any movement, however simple it may seem, becomes extremely complex when it is deeply studied through all its components. That's what we are going to do, to identify those components and train their coordination to achieve the mastery of the movement. At the same time the use made of these elements within the sequence is an 'example' always very useful and applicable in other variations.
Gustavo Naveira y Giselle Anne
sunday
may 31st
Gala milonga with performance
monday
june 1s7
Practica con todos los maestros (17:30-19:00)